Pest Control
To help circumvent turf replacement, Empire uses the most effective products available to control chinch bugs, mole crickets and grubs, and when required, broadcast applications to the entire property instead of spot treatment. Our weed control is limited to the broadleaf variety, as there is no product currently on the market to effectively tread sedge, carpet grass, crab grass and other "grass" type weeds. Don't be misled by companies that tell you differently.
Empire uses organic and horticultural oils or soaps whenever possible.
Pest Control Specialists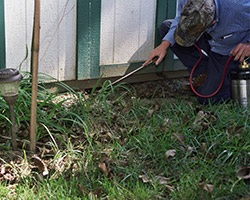 Pest control measures should be included in every landscape maintenance program. Controlling pest and insect infestation must be the top priority of property owners to avoid costly lawn damage. Pests can also ruin the beauty of the lawn or entire landscape if not controlled immediately. Moreover, they can bring diseases and pose health risks to your pets, kids and family members. With these issues and problems, it is just right to hire pest control specialists to address the infestation. And here at Empire Horticultural Services, we are one of the very few service providers in Sarasota and nearby areas who can provide working and long-term solutions to this serious lawn problem. Our people are certified and properly trained to perform this specialized and highly technical lawn care task.
When you hire us, we will create a custom plan that will address the entire lawn problem. We will determine the specific type of pest infestation, the extent of damage on your turf, and the right solutions to use. Our pest control program is proven efficient in preventing and controlling common lawn pests. As experienced lawn care practitioners, we know that there is no one-size-fits-all solution to eradicating lawn pests. We always adopt a customized approach to ensure successful lawn treatment and complete eradication of the problem. With us, you will not complain about reinfestation, existing brown spots on your lawn, or uneven turf color. Once we're done with our treatment program, you will have a revitalized lawn that is dense, lush, and healthy.
Systematic Approach to Pest Control
One of the reasons why most Florida property owners choose us is our systematic approach to pest control. Before we apply any insecticide or organic solution on your lawn, we first perform a thorough assessment of the lawn area. This will help us identify the type of pest and the correct methods to use to control the infestation. We also consider the recommended time and frequency of treatment to achieve 100 percent success in eradicating chinch bugs, mole crickets, grubs, and other kinds of pests and insects. Frequent pest infestation can become a very costly maintenance effort on your part, so we use only effective and proven solutions.
Eco-friendly Pest Control Methods
We know that a lot of property owners are concerned about the impact of pesticides on the environment and their possible effects on the health and safety of people. This is the main reason why we use only industry-approved pesticides and insecticides for our lawn care projects in Bradenton, North Port, Parrish, Sarasota, Venice, and other FL areas. But for clients who don't want this method, we recommend other alternatives such as the use of natural pest control methods and organic products. These are proven safe for your family, pets, turf, and flower gardens. Moreover, our eco-friendly products will not harm the natural wildlife and pollute the environment. The organic and horticultural oils that we use are sourced only from reputable manufacturers, so they are proven effective and safe. Call us now at (941) 365-0038 or visit our office so we can discuss your specific lawn care needs.
We Provide Services to the Following Cities and Towns in FL:
Bradenton
North Port
Parrish