Landscape Design & Installation
Empire Horticultural Services is one of the few companies who has the experience and capacity to manage your entire project under one roof. Our experienced design firm has been designing and building beautiful resort style landscapes in the Tri-County area of Sarasota for over a decade.
Our ambitious team will design a beautiful CAD rendering of your home or office suited to the most discriminate of clientele. Once a desired plan is achieved; a staff of experienced landscapers will install your landscape with precision and care. Every item installed in your landscape is handpicked to ensure your project exceeds your expectations. Our firm will drive to meet deadlines; however detail is never compromised in the process. Every project is scheduled and coordinated to best suit the needs of the client; once a project is complete our firm can offer maintenance programs tailored to the needs of the landscape project.
Our firm's goal is to maintain a positive ongoing relationship with our clients; we strive to keep a personal touch with each client, while meeting the demands of the most sophisticated and simplest of project.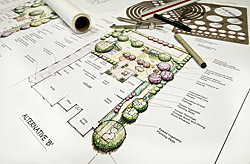 Use of Modern Landscape Design Tools
Our company uses modern design tools on every landscape design project that we handle. One of them is our computer-aided design software, which we use to create stunning patios, gardens, pool decks, and entire landscape settings. With these tools, the entire design process takes faster to complete unlike when using traditional hand drawings. The design software also lets us do quick revisions and achieve photorealistic renderings of the different landscape elements preferred by clients. Moreover, we can easily put elements needed by the client into the draft design with a few clicks on the mouse. The design details are also more precise, with almost little or no room for errors. At Empire Horticultural Services, our creative and skilled designers will use only the best design tools to turn your landscape ideas into an excellent design plan. By hiring experienced and well-equipped people like us, you're one step closer to realizing your dream landscape.
Personalized Landscape Design Plans
Creating personalized landscape design plans is another expertise of Empire Horticultural Services. Our creative people can always come up with a one-of-a-kind landscape setup through careful planning and collaboration with our clients. We make sure that every feature or amenity that we add to the design proposal will meet their needs and satisfy their personal preferences. We sit down with them and discuss the various design options for the outdoor area. As a local contractor who is very active in industry organizations, we are also capable of incorporating the latest design trends in our work. Our designs are known for their sustainability, aesthetic appeal, eco-friendly features, optimum functionality, and low-maintenance requirements.
Our design team can also work on our client's desired landscape theme or style. You can opt for an English-style garden, an Asian-inspired landscape, or a much modern landscape concept. If you prefer to highlight some landscape features, we can also incorporate it in the landscape design plan. You may go for a greener landscape by asking our designers to focus on flower gardens, shrubs, and ornamental trees. Another great idea is to add more water features in your landscape to achieve a relaxing and inviting outdoor environment. We can create for you stunning waterfalls with ponds, tiered fountains, garden ponds and other water elements. Our designers can also design functional outdoor living spaces such as patios, outdoor kitchens and pool decks. We've been doing this kind of setup for our previous clients from Bradenton, North Port, Parrish, Sarasota, and Venice. The results are outstanding design plans and completely satisfied clients.
Affordable Landscape Design and Installation Services
Our company charges competitive rates for the landscape design and installation services that we offer to our Florida clients. Rest assured that Empire Horticultural Services will not compromise quality work or provide poorly designed landscapes. Even with a small budget, you can still avail our professional services and achieve your desired landscape setting. So please call us now at (941) 365-0038 or visit our office so we can talk about your ideas and other plans for your future outdoor sanctuary.
We Provide Services to the Following Cities and Towns in FL:
Bradenton
North Port
Parrish