Mowing, Edging and Weeding
We guarantee your turf for as long as we are doing the maintaining. If it dies, we replace at our cost.
Mowing patterns are periodically changed to help eliminate grooves.
Unlike our competitors, we cut around sprinkler heads or "donuts" to keep your lawn evenly watered.
We do not use Round-Up to edge your beds.
Machines and equipment are operated safely under strict guidelines.
All equipment is removed at the end of each work day.
All walkways, roads and common areas are cleared at the end of each workday, all debris is hauled off.
Blades are changed and sharpened regularly to help ensure a quality cut.
Professional Lawn Mowing Service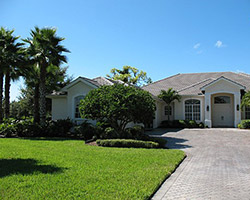 Mowing lawns may seem like a boring, mechanical task for many people. But here at Empire Horticultural Services, we take this particular lawn care task seriously. Accordingly, we are the right company to hire if you seek professional, courteous crews, and highly skilled people to make your lawn look clean and immaculate. We have worked on and are currently maintaining well-manicured lawns of numerous property owners across Florida, particularly those living in Bradenton, Sarasota, Venice, Parrish, and North Port. We'd be happy to turn you into one of our highly satisfied regular customers with the value-for-money maintenance services that we offer.
Complete Lawn Mowing Equipment
Regular lawn mowing is one of the tasks that the property owners must perform to keep their lawns presentable. However, this lawn care task can be a very time-consuming and exhausting activity, something that could be a hassle if you have a busy lifestyle. But why bother doing the hard labor yourself when you can just hire a reliable lawn maintenance contractor?
Among the factors you should consider when choosing the right company are the resources or the equipment they have. The company should have complete tools and equipment for mowing, edging, trimming, and other maintenance tools. And here at Empire Horticultural Services, we have all the necessary tools for ensuring efficient completion of the task. We have mowers, edgers, pruners, loppers, shears, saws, and the like. We also have skilled manpower with lengthy experience performing the said lawn maintenance task. With such resources available, your lawn can be mown faster since the work will be carried out more efficiently.
Guaranteed Lush and Beautiful Lawns
Achieving a clean and beautiful lawn all year long is always possible if you hire experienced people like us. Our landscape maintenance personnel have completed a lot of lawn mowing tasks for countless Florida residents, so you are assured of outstanding results. As a matter of company policy, we will leave your premises only after removing all debris and ensuring a thoroughly cleaned work area. In addition, our people use proven techniques to avoid damaging the turf and encourage proper grass growth. Ultimately, we can assure you of a lush and beautiful lawn that will be your source of pride throughout the year.
Affordable Mowing Services
The usually restrictive pricing is one of the reasons why a lot of property owners are hesitant to hire professional maintenance contractors. Empire Horticultural Services understands this concern, so we make sure that our rates are more client-friendly. We offer comprehensive lawn care services at rates that are well within our clients' budget limits. We also offer various options to clients in terms of frequency of mowing: weekly, bi-monthly, or per schedule. This means that our residential and commercial clients have the freedom to choose a schedule that will suit their availability and financial capacity.
We urge you to call us today at (941) 365-0038 to inquire about our rates and other lawn maintenance services. We'll be happy to answer your concern and visit your property soon so we can get a better idea of your specific mowing requirements.
We Provide Services to the Following Cities and Towns in FL:
Bradenton
North Port
Parrish