Water-Efficient Irrigation Systems
Empire Horticultural Services installs and maintains irrigation systems to keep everything running smoothly and to maintain the health and beauty of your property.
Proficient with all irrigation methods, manufacturers and models.
Compliant with all county and state water restrictions.
Irrigation warranty available to cover parts and repairs.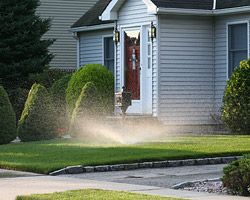 One of the most important aspects of landscape maintenance is proper irrigation. This particular installation should be designed carefully and must be 100 percent functioning at all times. A poorly installed system may provide too much or too little water, which could be harmful to softscape elements. This is why property owners should have a highly efficient watering system installed on their landscape. It will ensure the proper nourishment of the lawn and landscape plantings. As a result, the plantings will be healthy, lush, and disease resistant.
At Empire Horticultural Services, we are experts in designing water-efficient irrigation systems. We have the capability to custom design a watering system that will suit the specific needs of a residential or commercial property. We consider various factors when working on a project to ensure the system's durability and efficiency. For example, our men will use only premium-quality sprinklers and ensure proper identification of zones for a more efficient setup.
Landscape Irrigation Installation
Our team at Empire Horticultural Services is properly trained in the installation of all types of irrigation. We have also invested in modern tools and equipment to let us work on any installation project quick and hassle-free. Our clients are assured of long-lasting watering systems since we use only leading brands such as Rain Bird, Toro, and Hunter.
The different irrigation systems that we can install include:
Sprinkler system. The sprinkler type is most appropriate for lawn areas. It can cover expansive lawns and even hard-to-reach areas. There are two types of sprinklers you can choose from: manual and automatic. Manual sprinklers let you open the valve, time the watering, and shut off the water flow manually. Automatic sprinklers have programmable controllers that enable you to water your lawn at a specific time and interval.


Drip irrigation. The drip type is considered as the most efficient among the different types of landscape irrigation. Drip systems, which include micro-spray jets, micro-sprinklers, and bubblers, are highly-efficient methods of watering plants because they target the plant's root system. This method minimizes evaporation, water runoffs, and irrigation cost.


Expert Irrigation Maintenance Service
All watering systems require periodic maintenance to ensure their efficient functioning. Problems, such as leaking or burst pipes, defective timers or valves, and clogged filters and nozzles, may prove detrimental to your plantings and other landscape features. These issues need to be fixed immediately. However, you have to make sure that the people you're hiring are certified and well-experienced in the repair and maintenance of irrigation systems.
If you are residing in Bradenton, North Port, Parrish, Sarasota, or Venice area, don't hesitate to contact Empire Horticultural Services. We are the maintenance contractor you can count on for all types of irrigation issues and repair jobs. Our technicians are properly trained and equipped with the right tools and equipment, so they can easily provide onsite solutions to common and even complex problems. We may also use new products that can be retrofitted into your old system, such as smart water controllers, rain shut-off switches, and high-efficiency nozzles. In addition, we can perform routine checks, set irrigation clocks, and provide a 24-hour response time for service and emergency calls.
If you need water-efficient irrigation systems and highly-proficient technicians, feel free to call us at (941) 365-0038 today.
We Provide Services to the Following Cities and Towns in FL:
Bradenton
North Port
Parrish