Irrigation Management Services
Inspection and monitoring of entire system monthly
Manual checks of each zone and valve
Preventive maintenance
Maintenance on well
Standard trimming of sprinkler heads or "donuts"
Repairing and retrofitting systems
Check and set irrigation clocks
24 hour response time for service calls
24 hour emergency service available
Irrigation
Empire Horticultural Services installs and maintains irrigation systems to keep everything running smoothly and to maintain the health and beauty of your property.
Proficient with all irrigation methods, manufacturers and models.
Compliant with all county and state water restrictions.
Irrigation warranty available to cover parts and repairs.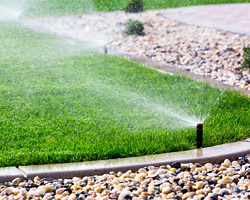 Expert Irrigation Management Services
Finding real experts who can work on the design, installation, and maintenance of your irrigation system is a must. You should not let an inexperienced service provider handle your project since it can result in poorly designed and installed system. You should also look at the maintenance skills of your chosen contractor. Ask if the company has the capability to work on any type of repair and maintenance job. Does it provide warranties or offer outright solutions to your irrigation problems? If your chosen contractor can answer all these questions, then you have probably found the right one. But don't choose the tedious process of selection if you can just hire Empire Horticultural Services. We have years of experience in providing topnotch irrigation management services for residential and commercial property owners in Sarasota, Bradenton, North Port, Parrish, and Venice. Our clients from these areas can attest to our skills, expertise, and quality workmanship. In fact, the irrigation systems that we designed and built for them years ago are still in their prime conditions until now. They are water efficient and require minimal maintenance efforts.
Here are some more reasons why you should get our irrigation management services:
our crews are all certified technicians with years of experience in the field
we use the latest tools and equipment for our installation and maintenance services
our highly efficient irrigation design allows property owners to save huge on water cost
we offer regular monitoring and maintenance of your entire system
we have the ability to retrofit old systems and make them more water efficient
we provide prompt and reliable service with our 24/7 emergency service
we create a preventative maintenance plan to minimize irrigation breakdowns
Holistic Irrigation Management Approach
At Empire Horticultural Services, we employ holistic irrigation management approach to give clients the best service possible. We want our clients to enjoy the benefits of a well-planned, long-lasting, and highly efficient irrigation system. We've been very successful in implementing this approach because of our seasoned and certified irrigation specialists. They have in-depth knowledge of the different irrigation types, so they can easily come up with fully functional systems. In addition, the proven methods and techniques that we use ensure the reliability of every watering system that we install. So if you are still looking for a reliable irrigation management services provider in Sarasota or in nearby areas, don't hesitate to contact us.
With our holistic approach, you are assured that there will be no more under or overwatering of your lawn or landscape plantings. This is a common problem for poorly designed and installed watering system, so we won't let this thing to happen in your backyard. Our team will make sure that your flowers, turf, gardens, shrubs, and trees get their proper nourishment at the right time and frequency. As a result, you will get a healthy and lush lawn or landscape plantings.
At Empire Horticultural Services, you will enjoy a system that works at optimum level and functions efficiently all year round. And the good thing is you will get our irrigation management services at client-friendly rates. Please call us now at (941) 365-0038 or visit our office soon to get a free cost estimate.
We Provide Services to the Following Cities and Towns in FL:
Bradenton
North Port
Parrish