Services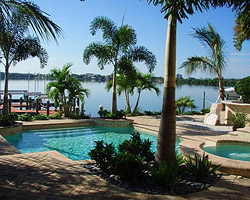 We are a professional landscape design and installation firm with more than a decade of experience creating extraordinary landscapes for our valued clients. In fact, the name "Empire Horticultural Services" is already a by-word in the areas we serve because of our ability to create unique designs, build outstanding landscape features, and maintain landscapes. We offer these services at budget-friendly rates without compromising quality. Our CAD plans show our firm grasp of essential design theories and elements while our installations represent our crews' superb skills and ability to build stunning and durable landscape features. From design and installation, as well as maintenance, we're the best company to hire.
Landscape Design
Designing a landscape that not only inspires relaxation but also provides all the amenities a property owner needs is tricky. But here at Empire Horticultural Services, we've perfected our craft through years of actual work. Our expertise in landscape design is highlighted by our excellent use of modern CAD software. Meanwhile, we will get your ideas and fuse them with our own to create a truly unique design plan. You will also get a photorealistic rendering of the design plan, so you can visualize your future landscape setup even before its installation.
Landscaping
We provide affordable landscaping services such as trimming and pruning of shrubs, hedges, and trees. Our skilled crews can be hired on a weekly, semi-monthly, monthly, or on-call basis. They use complete and appropriate landscape maintenance tools and equipment to ensure positive results and quick completion of tasks. We can also perform expert installation of various landscape features and amenities.
Irrigation
We are the right people to call if you need assistance on your irrigation system. Aside from installing all types of irrigation systems, we also perform maintenance and repair jobs. Our crews are knowledgeable about county and state water restrictions, so you're assured of a system that conforms to regulatory standards.
Irrigation management services
When it comes to providing 24/7 irrigation management services, our company easily renders the best quality of work. Whether you need help in doing preventive maintenance on your irrigation valves and heads or you require inspection of your irrigation system, we surely have you covered. We also perform retrofitting and repair of irrigation systems at super low rates.
Mowing
Mowing lawns is one of the services that we can perform with uncanny ease. Having mown countless residential and commercial lawns across Florida, we have become experts with firm grasp of what works and what to avoid. You can bank on our experience in maintaining perfectly cut turf that is a sight to behold. In fact, we're confident about our skills that we offer warranty on our work – if your turf dies on our watch, we'd be happy to replace it at no extra cost! How's that for assurance?
Pest Control
No one wants to have a landscape teeming with destructive pests, right? Accordingly, you can call us to avail our affordable pest control service that has been proven to be the best by many of our past and present clients. Whether we're talking of grubs, chinch bugs, or mole crickets, our skilled crews are ready to render the right remedy. We're proud to say that we stick to using non-harmful organic horticultural oils and soaps as part of our commitment to protecting the environment. If you need other landscape-related services, please call us at (941) 365-0038.
We Provide Services to the Following Cities and Towns in FL:
Bradenton
North Port
Parrish