Mowing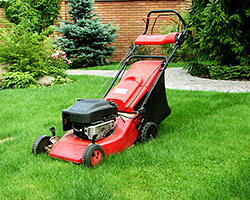 Anyone that has lawn areas on their property knows exactly how much care they have to take of this installation. Mowing is one of the most important aspects of lawn care and the company that handles landscape maintenance for you, should include this in the package they provide you.
You need a company that would be able to provide comprehensive mowing and lawn care solutions. They should be able to design, install and maintain your landscape for you in an expert manner. Empire Horticultural Services provides customized landscape solutions to customers in and around Bradenton, Sarasota, Venice, North Port, and Parrish. They provide a range of solutions that will match your requirements:
Lawn Mower
As mentioned earlier, lawn mowing is one of the almost important components of any landscape and lawn care package. The company that provides this service should be able to provide customized solutions and ensure that the job is done with regularity, depending on the grass that's being mowed. In addition to the mowing, the company should also ensure that their personnel are trimming the grass that grows at the edges of the lawn installation.
Lawn Care
When you approach a landscaping company for any kind of lawn care services, they should be able to provide you solutions that match your requirements. This is because turf care is a very specialized job and every lawn space is different. This also means a standard package may not always work for everyone. Ideally, the lawn care package should include mowing and de-weeding, aeration and pest control, fertilization etc. If re-sodding is required, the company should be able to do that too.
Lawn Mowing Service
When you have lawn spaces you would have to ensure they are mowed every week or fortnight. Lawns that haven't been mowed make the landscape look very unkempt and untidy. This is why it's important to hire the services of a company that would be able to provide you these services. Mowing the grass regularly helps maintain its health and lends the installation a manicured look. Ill-maintained grassy areas also harbor pests and weeds and impact the health of the turf.
Grass Cutting
This is an essential part of any lawn care program. While the landscapers will mow the grass on a regular basis, there could be some areas or spots on the lawn where a lawn mower can't reach. The personnel will manually cut the grass at these points and this ensures the health of the entire lawn space is maintained at all times. When you are hiring a company for lawn maintenance, check whether they use mowers as well as manual tools. This will ensure your lawn is cared for well and that every section of it looks well-manicured at all times.
It's best to hire a well-established and credible company like Empire Horticultural Services for all your landscaping needs. That would ensure you get high quality landscapes that will look good, be healthy and last for a number of years.
"MORE ARTICLES"
Irrigation
Landscape Design
Landscaping
Lawn Care
Landscape Company
We Provide Services to the Following Cities and Towns in FL:
Bradenton
North Port
Parrish