Lawn Care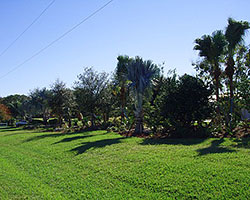 Your landscape is a mix of various elements and if you want to have a well-balanced landscape that has a cohesive look you have to ensure that it has plantings, hardscape features, water features and various decorative elements in the right proportion. Most landscapes also have lawn spaces and it's important that you hire experts to maintain the turf on your property.
You need a company that would be able to provide comprehensive lawn care solutions. They should be able to design, install and maintain your landscape for you in an expert manner. Empire Horticultural Services provides customized landscape solutions to customers in and around Bradenton, Sarasota, Venice, North Port, and Parrish. They provide a range of solutions that will match your requirements:
Landscaping
Lawn installation and design is part and parcel of a larger landscaping project and the company that handles your design aspect should also be able to install the garden and yard elements for you as well. A good landscaping company will have professionals that work closely with you, understand your needs and then provide garden spaces that you would be encouraged to use.
Lawn Mower
The company that handles lawn care for you will use a lawn mower in its work if you have lawn spaces. In addition to this, they will also manually trim the lawns at the edges. In most instances, the mowing schedule will be combined with other lawn care services and that ensures your turf is looked after well. The company that handles lawn care for you will ensure that the mowing is done with regularity. This helps keep your grass healthy and you would be able to have lawn spaces that stay looking good for a number of years.
Lawn Care Services
In addition to mowing, a good lawn maintenance service company will also ensure that they provide a range of other services such as aeration, de-weeding, re-sodding, and fertilization etc. Apart from these services, they will also ensure that mulching and pre-emergent weed control, as well as pest control, is carried out with regularity. When the lawn gets the care it needs, it will stay healthy and look good for a number of years. The lawn care specialists will also ensure that the irrigation and drainage aspects are in place.
Lawn Maintenance
When you are choosing a lawn maintenance company, it's important to ensure that you hire one that's been operating in the space for a number of years and that it has a good reputation. Check whether they provide custom solutions and understand what they charge for their services and what is included in them. It's important that the company takes into account aspects such as the type of grasses, the soil, and the climatic conditions and your specific requirements and preferences as well.
It's best to hire a well-established and credible company like Empire Horticultural Services for all your landscaping needs. That would ensure you get high-quality landscapes that will look good, be healthy and last for a number of years.
"MORE ARTICLES"
Irrigation
Landscape Design
Landscaping
Mowing
Landscape Company
We Provide Services to the Following Cities and Towns in FL:
Bradenton
North Port
Parrish