Landscaping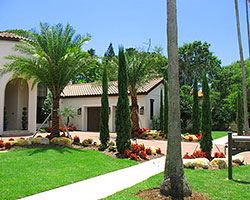 If you have a property with some outdoor space on it, you would need the services of a landscaping company. You need a company that would be able to provide comprehensive landscaping solutions.
They should be able to design, install and maintain your landscape for you in an expert manner. Empire Horticultural Services provides customized landscape solutions to customers in and around Bradenton, Sarasota, Venice, North Port, and Parrish. They provide a range of services that will match your requirements:
Landscape
Your landscape is one of the first things that people that visit your property notice. In fact, your garden and all the elements in it become the backdrop of your home and add to the value of your property too. When you want to get this designed, it's important that you put in a certain amount of research and work closely with the professionals that are handling the job for you. This will ensure your landscape has all the features you want and that it will meet your functionality requirements as well.
Landscape Design
This is a very important aspect of any landscape project and the company that handles the job for you will also ensure that the design options they provide have all the necessary features and elements in it. There are a number of themes and concepts you can choose from such as tropical, Mediterranean, Zen etc. It's important to ensure that these concepts match the architectural elements that exist in your home structure and in the landscaping too.
Lawn Care
The lawn spaces on your property add a very fresh and aesthetic appeal to it. However, the grass won't stay looking good without the right kind of care. This is why it's important to hire the services of a good company that would be able to provide comprehensive turf maintenance solutions. You should be able to choose from standard packages or customized ones and these should include mowing, de-weeding, fertilization, pest control as well as trimming, re-sodding and aeration etc.
Lawn Spaces
The lawns on your property should be planned and positioned well. They should add beauty to the outdoor spaces of your home, but they should be functional as well. It's also important to ensure that these lawn spaces have pathways around them or paving stones that are artistically placed across them; these will help you get to the extreme end of the garden or yard without trampling on the grass.
Landscapers
The landscapers you hire for the job should be able to accommodate custom design requests you may have. Every property owner has specific requirements when it comes to how they want their landscape to be. The professionals you hire for the job should be able to give form to your ideas and provide the kind of solutions you need.
It's best to hire a well-established and credible company like Empire Horticultural Services for all your landscaping needs. That would ensure you get high-quality landscapes that will look good, be healthy and last for a number of years.
"MORE ARTICLES"
Irrigation
Landscape Design
Lawn Care
Mowing
Landscape Company
We Provide Services to the Following Cities and Towns in FL:
Bradenton
North Port
Parrish