Landscape Design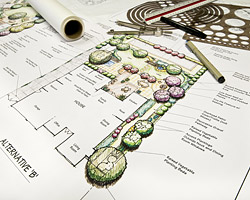 When you are planning your landscaped spaces, it's crucial that you hire a good company for the job. Some people feel that landscape design isn't very complicated and that they will be able to just source some plantings and have them installed on their property. Even if you have a creative streak and a keen eye, it's not really a novice's job to design and plan a landscape.
You need a company that would be able to provide comprehensive landscaping solutions. They should be able to design, install and maintain your landscape for you in an expert manner. Empire Horticultural Services provides customized landscape solutions to customers in and around Bradenton, Sarasota, Venice, North Port, and Parrish. They provide a range of solutions that will match your requirements:
Landscaping Ideas
You are sure to have some specific ideas about how you want your landscape to be. Some property owners aren't too sure about which features and elements they should add to the landscape. The one way to ensure you have a well-planned and well laid out yard and garden, is to conduct a certain amount of research and consult with expert landscapers.
Garden Design
The design of your garden is something you should pay a lot of attention to. Discuss with your landscape designer what your ideas are, and they would be able to create plans that are functional and aesthetically appealing. The garden should have properly demarcated spaces, the right balance of elements and the materials used should be strong and hardy. This will ensure the longevity of the landscape.
Patio Design
Many property owners like to add a patio to their yard. This is a very popular feature, but it needs to be planned and installed well. The design should be in sync with the design of the rest of the landscaping. In addition to that, if you are planning to get an outdoor kitchen installed there, you would have to decide whether you want it to be open to the air, or whether you prefer a semi-enclosed space.
Landscape Designer
When you are looking for a landscape designer there are a few things that should be taken into consideration. Ensure you hire a professional with experience and a good reputation. They should also be able to work closely with you to understand what your specific requirement is, and then provide you with solutions that work for you.
Landscape Architect
A landscape architect would be able to work on your ideas and provide ideas so you get outdoor spaces you would love to use. They will help plan and design any outdoor features you may want to be installed and will also take care to see that they add features such as plants, water features, fireplaces and other stone elements, to add to the beauty of the space.
It's best to hire a well-established and credible company like Empire Horticultural Services for all your landscaping needs. That would ensure you get high-quality landscapes that will look good, be healthy and last for a number of years.
"MORE ARTICLES"
Irrigation
Landscaping
Lawn Care
Mowing
Landscape Company
We Provide Services to the Following Cities and Towns in FL:
Bradenton
North Port
Parrish