Landscape Company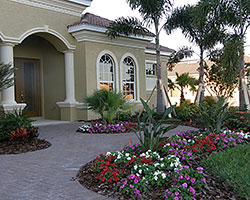 The gardens and yard on your residential property are a value-add to your home. They are essentially an extended part of your house and you are able to use these as relaxation and entertainment zones. However, that can happen only when you ensure they are planned and installed well. It's why you should hire professional landscapers for the job. An experienced company that has handled a large number of similar projects will be able to create perfect solutions for you.
You need a company that would be able to provide comprehensive landscaping solutions. They should be able to design, install and maintain your landscape for you in an expert manner. Empire Horticultural Services provides customized landscape solutions to customers in and around Bradenton, Sarasota, Venice, North Port, and Parrish. They provide a range of solutions that will match your requirements:
Landscaper
It's important that you choose your landscaper with care and look for someone with experience. You should also check whether the company is able to provide tailor-made solutions that will match your requirement. They should be willing to provide alternative designs and rework on them if required. The company should be particular about ensuring that good quality materials, as well as workmanship, are used, as the longevity of the landscape will depend on this.
They project should also be completed on schedule and in a meticulous manner, within the stipulated timeframe. It's also crucial that you check whether the prices they have quoted fit into your budget. Your landscaper should be able to provide end-to-end design, install and site management solutions.
Landscaping
The landscaping on your property is the backdrop of the house structure and it lends charm and beauty to it. Well-designed yard and gardens encourage you to use these areas more; but that can happen only when they all are designed well, and have properly- demarcated spaces. The company that handles the landscaping job for you should understand what your specific requirements are; they should also be willing to work on the ideas and concept you have and then provide the kind of solutions that would fall into your budget.
Landscaping Ideas
As the homeowner, you are bound to have some ideas about how you want the outdoor spaces on your property to look. The professionals should also work on those ideas and provide good ones of their own and create spaces you will love to use every single day. A good a design adds to the functionality of the space. You can research online for various concepts and ideas for the landscape and check what the latest trends are. You can choose from concepts such as Mediterranean themes and tropical or Zen themes and pick one that matches the architectural elements of your home.
It's best to hire a well-established and credible company like Empire Horticultural Services for all your landscaping needs. That would ensure you get high-quality landscapes that will look good, be healthy and last for a number of years.
"MORE ARTICLES"
Irrigation
Landscape Design
Landscaping
Lawn Care
Mowing
We Provide Services to the Following Cities and Towns in FL:
Bradenton
North Port
Parrish