Irrigation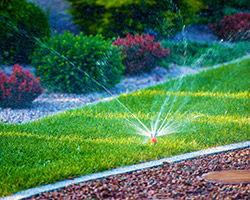 Irrigation is a very important aspect of any landscape and though you can't really see the different installations that make up the system, this is one of the very first things that gets set in any landscape project. Regardless of how well-planned and beautiful your garden and yard are, if your plants, shrubs, trees and lawns don't get watered at the right schedules, they wouldn't be able to survive and thrive.
You need a company that would be able to provide comprehensive landscaping solutions. They should be able to design, install and maintain your landscape for you in an expert manner. Empire Horticultural Services provides customized landscape solutions to customers in and around Bradenton, Sarasota, Venice, North Port, and Parrish. They provide a range of solutions that will match your requirements.
Drip Irrigation
This seems like a very simple irrigation system and it is, but it's also very highly effective and is used in a number of landscaping projects. This is because it's one of the most energy-efficient methods of ensuring that all the plants and shrubs get regularly watered and there would be no water wastage either.
The drip irrigation system deposits water near the plant roots. This system is a network of emitters and pipes. The size of the emitters depends on the total amount of water that is required to be deposited. Since the plants get small quantities of water at regular intervals, they stay very fresh at all times.
Sprinkler System
Most landscapes have a lawn; this is one feature that can make any landscape complete. While the grass does look good on the property, you need to ensure its watered with regularity, if you want it to remain healthy and fresh. While some people do water their lawns using a hose, that can be quite a time-consuming task and eats into your leisure time. It's much better to get a good automatic sprinkler system installed on your property. In fact, you can also get rain sensors installed with it. That ensures the system won't come on when it's raining. Since the turf gets watered at regular intervals at the pre-set timing, they thrive.
Irrigation Systems
The type of irrigation systems you opt for is dependent on the types of trees, plants and lawns that are installed on your property. In fact, the other aspect that has to be taken into consideration is the type of soil that exists there. When you hire a good company for the job, they will survey the space and identify what kind of system would be suitable for your landscape. This customized approach ensures your plants and garden get the kind of watering they require. Irrigation systems are always a combination of sprinkler systems, drip irrigation and soaker hoses.
It's best to hire a well-established and credible company like Empire Horticultural Services for all your landscaping needs. That would ensure you get high-quality landscapes that will look good, be healthy and last for a number of years.
"MORE ARTICLES"
Landscape Design
Landscaping
Lawn Care
Mowing
Landscape Company
We Provide Services to the Following Cities and Towns in FL:
Bradenton
North Port
Parrish