Landscape Design
Landscape Design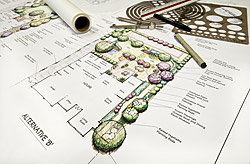 The condition of your landscapes will always have a huge impact on the first impression of your property. For is reason, many homeowners are now placing a lot of importance on their outdoor living areas. Designing and building your ideal landscape is a difficult task but with the help of professional landscapers like the team at Empire Horticultural Services; the task will be much simpler. Experienced landscape designers and landscape contractors can turn your mundane landscape setting into a magnificent oasis that you can enjoyment out of and which will be the envy of all your neighbors.
The aim for any landscape designer is to create a simple but eye-catching landscape. One that will make a statement yet be able to be maintained easily. We also understand that everyone has their own personal style and tastes and that there are clients who will require more complex landscape designs and others will just want a simple landscape structure. Our team of professional landscape designers will sit down with you and custom design a landscape setting that will suit your property and your budget!
It is very important that you ensure that only licensed and reliable landscape designers and landscape contractors are hired for your landscape design project. For residential and commercial property owners throughout greater Sarasota, FL; a landscape design company that can be trusted to get the job done right and time is Empire Horticultural Services
Landscape Design Features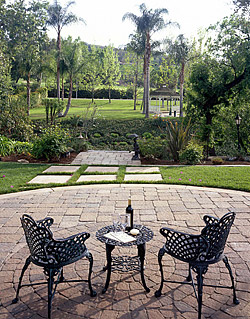 Empire Horticultural Services is a full service landscape and hardscape provider. We are capable of providing innovative and stylish designs for your residential or commercial property. We will not only create stunning landscape designs but we will also install every component of your landscape project. Some of our landscape services include the custom design and installation of patios, driveways, landscape lighting, outdoor fireplaces, firepits, outdoor kitchens, irrigation, water features, paver installation, retaining walls, and a whole lot more.
Hardscapes: When it comes to hardscapes we are referring to such projects including patios, driveways, retaining walls, pool decks, pergolas, outdoor kitchens etc. in other words anything that is made from hard materials. Patios are becoming one of the most popular hardscaping projects for homeowners nowadays. The reason is that a patio can add so much to any landscape by giving you a place to sit, relax and entertain friends and family.
Water Features: The addition of any type of water feature to any landscape will really enhance the aesthetic appeal as well as the atmosphere. The sound of trickling water always seems to have a calming effect on those around it. Water fountains, ponds, waterfalls, and water gardens will give your landscape life and a sense of tranquility. Our landscape designers have many years of experience in designing unique and elegant water features across Sarasota, FL.
Landscape Lighting: the addition of a landscape lighting scheme provides so many benefits to any property. Lighting increases visual appeal at night, so your property can shine during the night as well as the day time. It adds to the safety and security of the property. Lighting provides safe pathways for people entering and exiting your property at night. The appearance of lights will also add security by giving off the impression that someone is always home.
Expert Design Services
Empire Horticultural Services is a professional and experienced landscape design company in Florida. We have a long list of services for any landscaping or hardscaping project. We have experience in both residential and commercial landscaping. Our team is committed to providing outstanding landscape design services to all of our clients.
We Provide Services to the Following Cities and Towns in FL:
Sarasota, FL
Bradenton, FL
Sarasota Springs, FL
Palmetto, FL
Bayshore Gardens, FL
Fruitville, FL
Southgate, FL
Vamo, FL
Osprey, FL
Laurel, FL
Venice, FL
North Sarasota, FL