Hardscapes
Hardscapes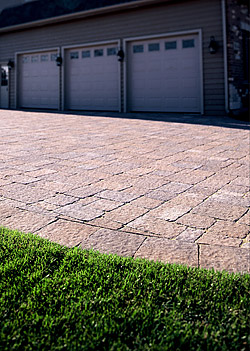 Empire Horticultural Services is a full service landscape and hardscape company serving the greater Sarasota, FL region. We have been providing both our residential and commercial clients with outstanding hardscaping services for many years with great success. Transforming a rather plain and boring outdoor living area into an elegant living space is possible with the help of some experienced hardscape professionals. Entrust your outdoor to us at Empire Horticultural Services and we will create some very unique hardscape designs for you, whether it be a patio, a new driveway, walkway, pool decks, water feature or an outdoor kitchen; our designs are customized to suit you and your property!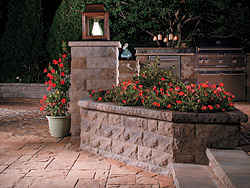 Hardscaping and Function
Besides beautifying you outdoor areas, hardscaping is very important in making the most of the space that you have available. You can completely change how you use your property with the addition of hardscapes like fences, walkways, driveways, retaining walls, water features, and gazebos. These elements will not only be beautiful but very functional, too. They all have some sort of function and make getting around and using your property much more practical.
Hardscape additions will provide much more form and function to your landscaped areas. For example the installation of driveways and walkways and garden pathways separates areas that are driven on and walked on. They provide safe places to get around your property. Other things like patios and outdoor kitchens provide a place to sit down and enjoy the fresh air and a place to entertain your guests. Hardscapes really do add so much value to you and your home or business property.
Retaining walls are a great example of a hardscape application that makes unusable and inaccessible slopes more functional. It holds back soil that would rather slope down and mess up the entire landscape setting. With this wall, the former useless plots of land can be transformed into an elevated garden bed or a deck.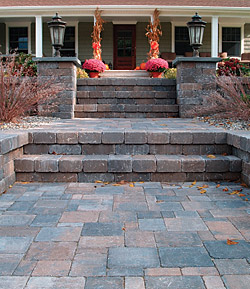 Pavers and Hardscapes
Hardscapes can be created with the use of many types of landscaping materials and products. Some of the most common materials are concrete, bricks, stones, and wood. But amidst all these is the paver. The paving stone has become the best and most popular hardscape material.
Pavers are a strong and sophisticated hardscape product. They are available in myriads of materials including natural stone, flagstone, travertine, marble, slate, limestone, brick, clay, rubber, and manufactured stone to the most common of all the concrete paver. Whatever you like, you are certain to find a wide variety that will suit your tastes.
The great thing about pavers is that they are also available in many different colors, shapes, sizes and textures. This means that the design possibilities with paver's are endless. It is almost guaranteed that your paver design will be a unique one. Particularly if you are using natural stone pavers because know two stones are ever the exact same. There are also able to be laid in different patterns from the classic brick to an out-of-this-world design. A hardscape featured with pavers is a beautiful and sophisticated hardscape that will last a lifetime.
But besides using the best hardscape material, it is also important to use the best craftsmanship build the most astonishing hardscape. Empire Horticultural Services is a professional hardscape company with many years of experience in the industry. We see to it that your desires be turned into a reality. Call us today and we will discuss how hardscaping can transform your outdoors into your dream living space.
We Provide Services to the Following Cities and Towns in FL:
Sarasota, FL
Bradenton, FL
Sarasota Springs, FL
Palmetto, FL
Bayshore Gardens, FL
Fruitville, FL
Southgate, FL
Vamo, FL
Osprey, FL
Laurel, FL
Venice, FL
North Sarasota, FL